Dirty Dozen Community Play Day
Our local group, the Dirty Dozen Fiber Artists, decided to have a play day, and we invited several others to join us.  We met at our favorite hang out, RiverHouse, and had tons of fun. 
Ruth Anne showed us how to use a variety of inks.  Of special interest was marking with permanent markers and then spraying them with alcohol to get the colors to run.
Martha and Jill showed us how to print from gelatin plates.  Oh, the options!
Below, Jill (far right) and Martha (second from right)
showed printing techniques and examples.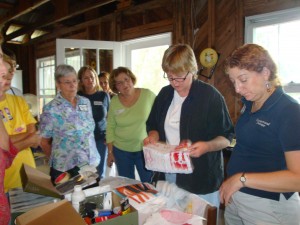 A first print and a second "ghost" print, as created by Jill.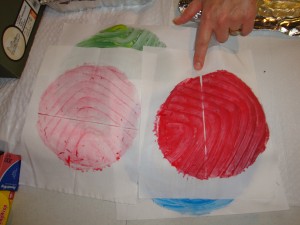 The paint added to a shimmery pan of gelatin looked like stained glass. 
It was so mesmerizing I didn't even want to do any more to it!  (As a matter of fact, after slowing down enough to admire and photograph this batch,
the paint dried and I had to start again.)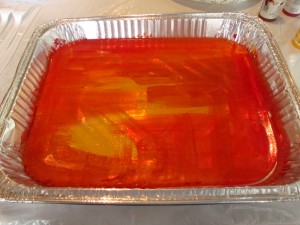 I'm very messy with paint and I managed to get almost as much on myself as I did on the fabric.  I always wear old clothes so I don't have to worry about it. 
What fun!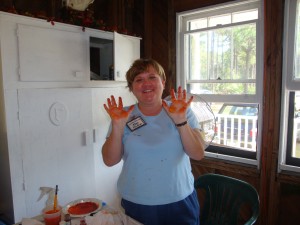 (Click any photo for a larger image.)
Ellen Lindner