Double Reverse Applique in Venice, FL
Last week found me in Venice, FL, teaching my Double Reverse Applique class for the Venice Area Quilters Guild.  The project for this class was a high contrast apple.  The photo below shows the first few finished apples taped up for display, as the rest of the class is reflected in the mirrored wall.  (Click the photo to see a larger view.)  It's amazing how different the apples look.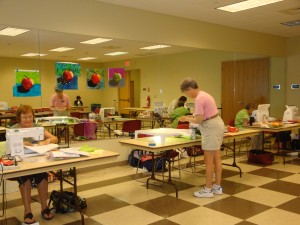 These ladies were very productive.  By the end of the day, all 18 students had finished an apple, and quite a few had a pear well under way.
The Double Reverse Applique technique is easy and fast, and perhaps best of all, very accurate.  It's great for portraits and such.
After class, I spoke at the evening meeting, delivering my "Playing with Fabric" lecture.  A full and productive day.  Not to mention fun!
Ellen Lindner