The Power of Stitching
I belong to a wonderful fiber art group, and we had our monthly meeting yesterday.  More like a "gathering," really, with lots of show and tell, great ideas, some quilt critique, and lots of chatter.  Great for inspiration and creativity!
Bev O'Connell showed us some stitched flowers which were inspired by "Zentangle" drawings.  (More on Zentangle soon.)
These flowers are so vibrant and energetic! 
Click any image to see a larger version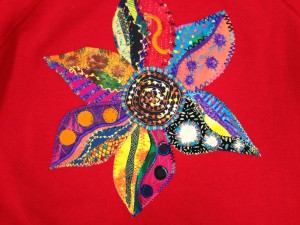 Bev also showed us a sweatshirt with two more flowers on it.  I was struck by what a difference the decorative machine stitching made.  See what I mean: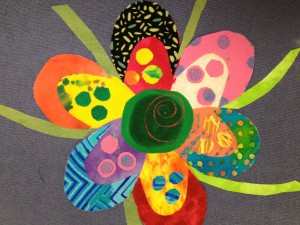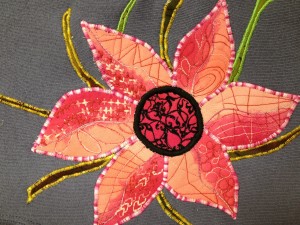 The stitching really adds a lot of definition and interest, don't you think?    Bev does great work.  (And she's VERY prolific!)
Ellen Lindner