Gilding the Lily
In earlier posts I showed you the quilt I made entirely with fabrics given to me by Judith Content.  That went together so easily!
Now, I'm working on one that's much more challenging.  This time I am working with only one panel of Judith's fabric, the center one shown below.
Click any image for a larger view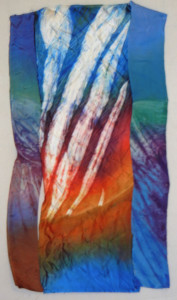 I decided not to use the two side pieces, thinking that they didn't really go together.  (Now, I see that I could have made them work, but that's not the path I chose.)
So, I decided to work with the largest panel only, and to add some of my own fabrics to the mix.  I always find it challenging to "guild a lily."  That is, to add to something I like "as is."  The goal is to add components that compliment the original part, but don't outshine it.  For me, it requires a lot of thought and some trial and error.
I had several versions of blue ultra-suede fabric and auditioned them.  I thought the royal blue one, bottom left, had promise.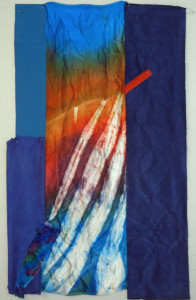 I almost immediately thought of a concept and title, "Lava to the Sea."  Very helpful!  I began to consider some slanting lines in the right fabric, loosely mimicing the slanted motif in the primary panel.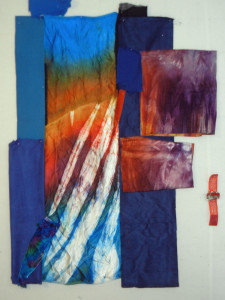 Maybe some little skinny lines?  I decided the tilt of the new lines should be different than that of the primary ones.  After all, I didn't want to create chevrons.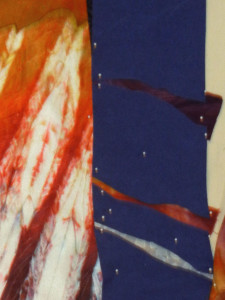 But, I just didn't like the heavy blue on the right.  Eventually, I scrapped it and used hand dyed fabrics, instead.  Again, I was careful to avoid chevrons. And also, perfectly matched colors.  I just wanted to imply the slope of a volcano, or the flow of lava.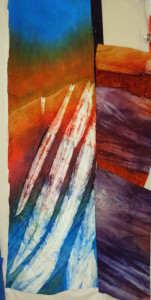 Eventually I completed the right panel to my satisfaction.  Although I avoided matching in most places, I did purposely continue the "lava" line from the main panel to the right one.  And I added a skinny line of that ultra-suede.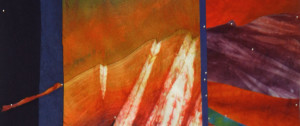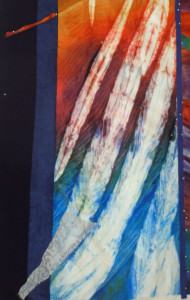 In the photo above, you can see that I'd also begun to audition dark blue ultra-suede for the left panel.  Since it was solid, I knew I'd need to break it up with fabric or stitching.  I also played with the idea of extending one white shape into the left panel, as well as a fabric line indicating the lava flow.
And here it is, ready for stitching.  As you can see, I did go with the little fabric lava line and the extension of the white shape.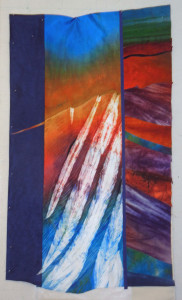 The bottom border will undulate, as shown above.  I'm not sure what will happen with the top border.And the left border will probably get skinnier.
How about you, have you ever gilded a lily?  How did it go?
Ellen Lindner