Crealde Opening
Last month two quilt exhibits opened at the Crealde School of Art, in Winter Park, FL.  They are The Sum of All Parts, which is a traveling exhibit, and Mid-Florida Quiltmakers, which includes my piece, "Caring."
I'd never been to Crealde before.  Their exhibit space is not large, but the art was well-lit and the event was very festive.  The attendance was the best they've ever had for an opening and it was quickly standing room only.  (I took this photo when about 1/3 of the people had arrived.)
Click any image for a larger view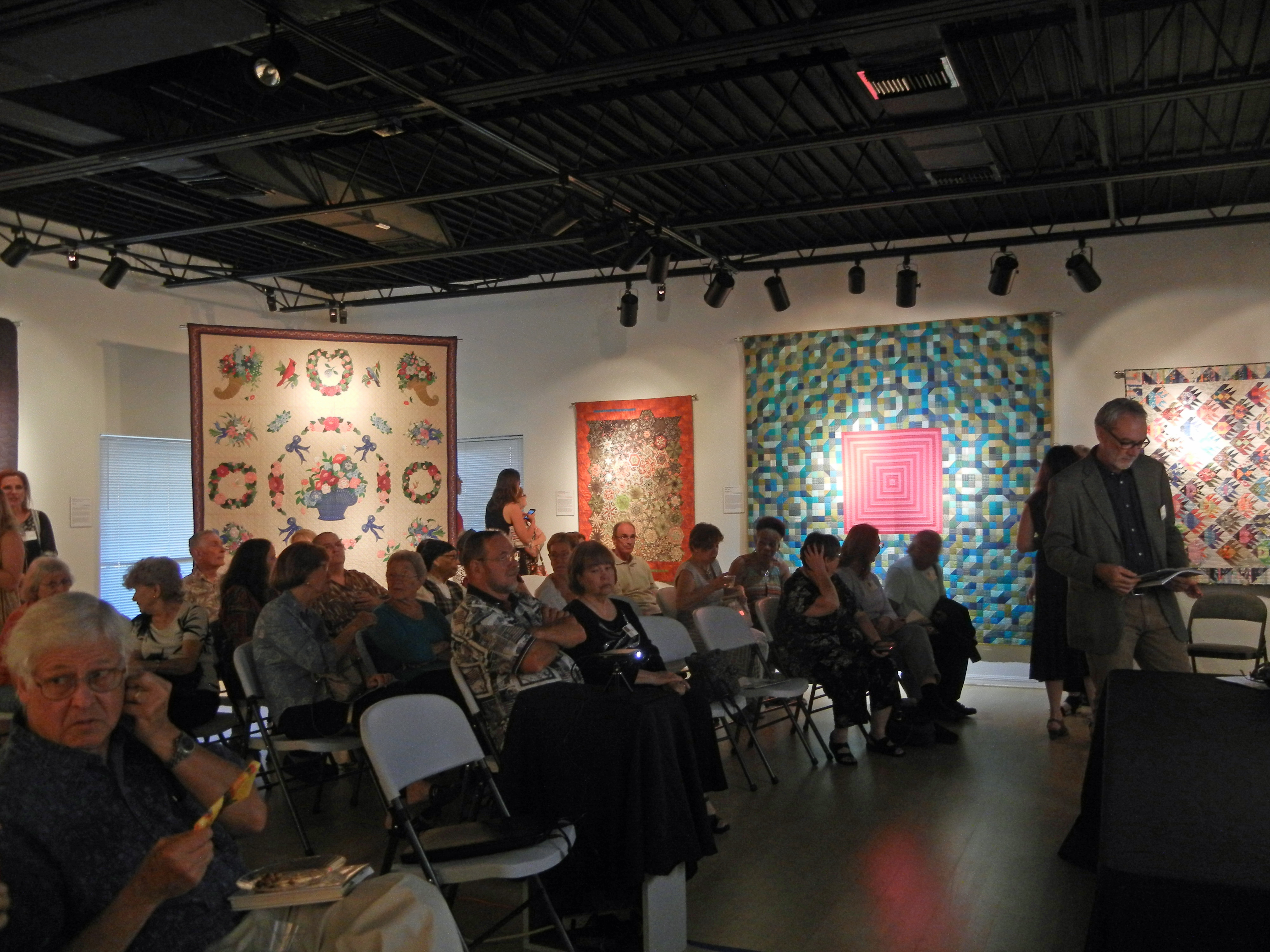 The opening night festivities included presentations by the curators for both exhibits.  It was very interesting!  The Mid-Florida presentation included shots of my quilt in-progress, as well as a little about how I made the piece.  I felt like quite a celebrity!
And here it is: "Caring."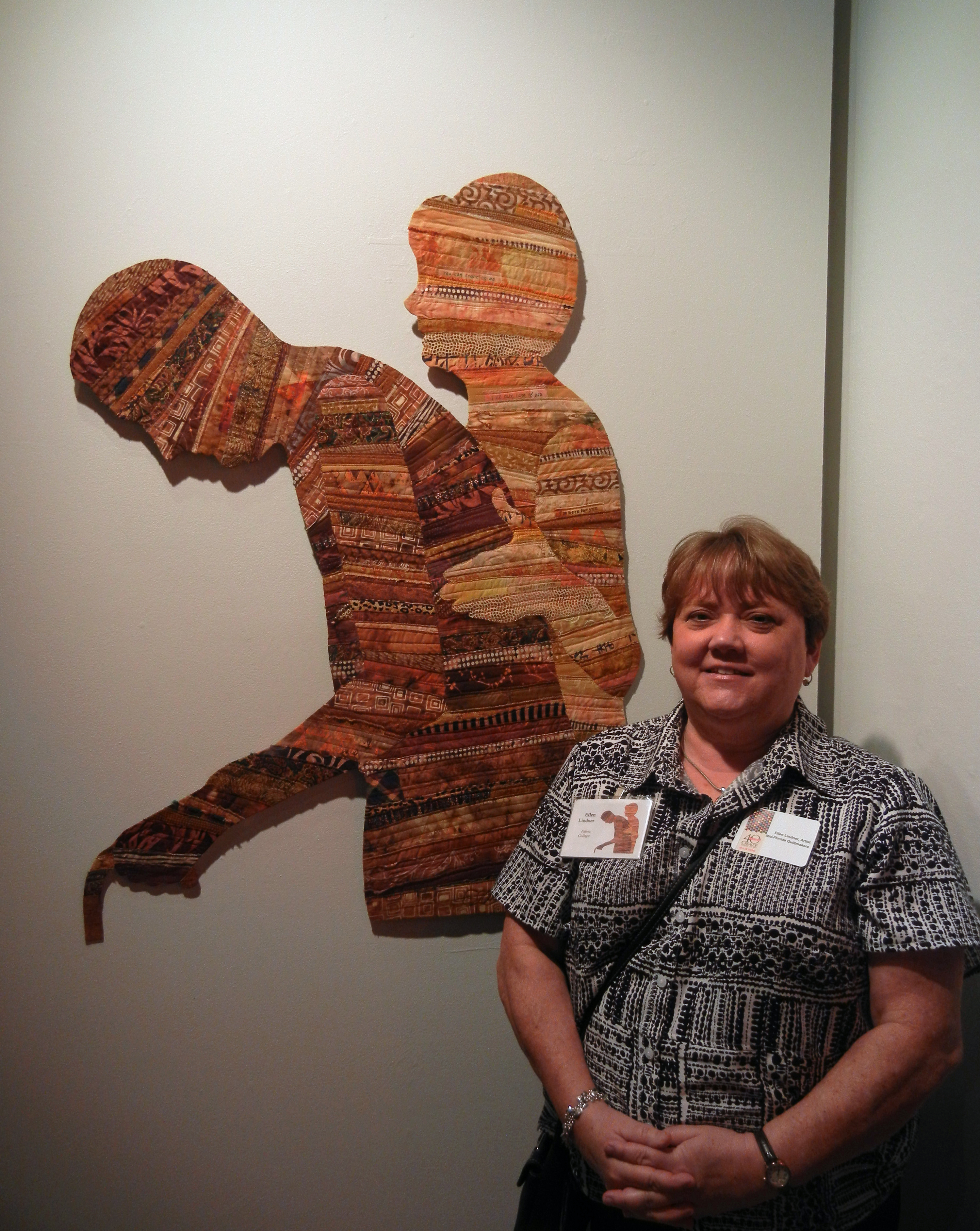 I was especially glad to have this piece on display, since it's hard to ship.  Therefore, I only get to show it in nearby venues.
Marketing tip:  When you attend an event which features one of your quilts wear a name tag showing that quilt.  It will automatically identify you as the artist and will be a great conversation starter.  (And if the venue provides you with another name tag just wear one on each side.)
There were many wonderful quilts on display.  This one was sort of the star, made by Martha Ginn: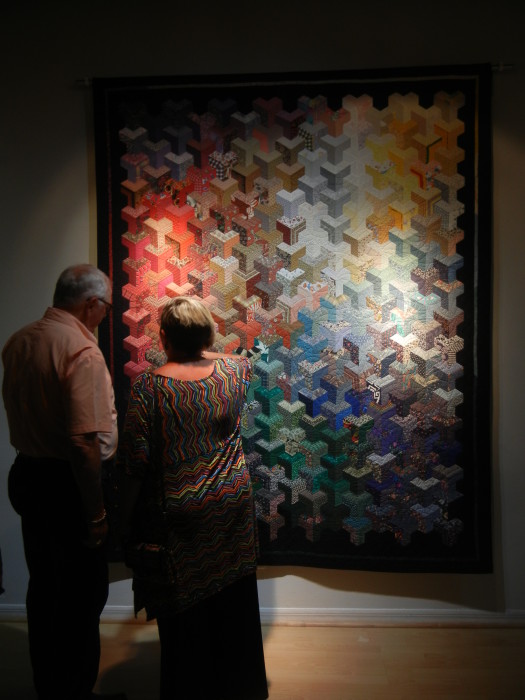 (The shadows were not as deep as they appear in these photos, but the interior of the room was unlit.  The only lights were on the art.)

The exhibit space shown above is only half of the exhibit. The remainder is in downtown Winter Park, at the Hannibal Square Heritage Center.
Both exhibits run through January 18th, 2016.  If you live in the area I strongly recommend a trip to see them AND to spend some time in delightful Winter Park.
Ellen Lindner
P.S.  Winter Park is a delightful little town with lots of shops and restaurants nestled among beautiful trees and landscaping.  Plus, it  has the Morse Museum, which features Tiffany glass, and there's even a cool boat ride!