Extreme Makeover:
Quilt Edition
Have you ever had a nagging feeling that something's just not quite right about the quilt you're working on? This feeling was my almost constant companion as I worked on my quilt Urban Sprawl. I kept doing things to make it better. Although they helped, I still wasn't totally happy with the piece. The quilt was still just "okay." But it was far from exciting.
Even as I began to quilt it, I was still haunted with misgivings. In the back of my mind, I was continuing to look for a solution. Here's what the quilt looked like during quilting. (Inspired by a rooftop photo.)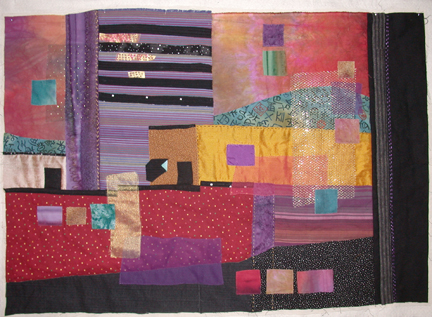 Part way through the quilting process, I finally realized what was lacking: the piece was too exact. The lines of the buildings were too straight and parallel. I thought it would be much more interesting if things were somewhat askew. To test my theory, I printed a photo of the quilt and sliced the tallest building. When the pieces were offset a little, I thought it was much more interesting! Kinda like this:
Hmm. It looked rather odd, but I could tell I was on the right track. Next, I decided to add a little tilt to the mix. Sorta like this:
Now it was getting exciting! So, I cut my picture into five pieces and completely rearranged them! The piece was no longer recognizable as architectural, and that suited me just fine. But, gee, could I possibly be brave enough to cut up the already quilted quilt? Scroll down to see.
Keep going…
Ta-da!
What do you think? I love it!
Of course, this is not the most efficient way to construct a quilt. Cutting the quilt left raw batting showing. Although I'm not usually bothered by raw edges, I was worried about the white batting migrating onto the yet-to-be-constructed black background. I took two steps to prevent this. First I machine buttonhole stitched around all the edges. Then, I painted the very edge of the exposed batting with gel medium. This sealed the batting to my liking. Here's a detail photo. (The gel medium dries clear, so it's not visible.)
I also constructed the black background quilt to support everything. It's made with black silk dupioni. This is consistent with silk that's used elsewhere in the piece, plus it will be less likely to attract the dreaded fuzzies. Finally, all the pieces were overlapped and sewn together.
I'm very happy with this piece. I just hope that the next time I'm faced with an uninteresting piece, the solution will come to me sooner! Having said that, however, I'm eyeing a couple of my ugly quilts…with my rotary cutter in hand.
If you found this information useful, you may be interested in my other free articles, online classes, and e-books. Full directory