Looking Back: Kaleidoscopes Anyone?
In the mid 90s I became very intrigued by Paula Nadelstern's kaleidoscope technique.  Thanks to her book, I was able to give it a try.  Here's a sampling.  (Click any image for a larger view.)
It was great fun to plow through my various fabrics in order to find ones that I could successfully merge.
Perhaps this next quilt was my first "art" one.  Although the concept was Paula's, it was my idea to use solid fabrics and my own hand dyed and hand painted fabrics.  And, of course, the design was my own. Does that qualify as art?  I'm not sure.
My 12 year old niece and I painted the fabrics for this quilt.  It has won several prestigious awards.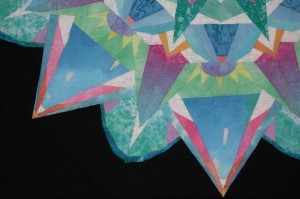 Kaleidoscope quilts are a lot of fun to make, but they're also very time consuming.  After making six, I can confidently tell you that I've gotten them out of my system!
Ellen Lindner
P.S. Although not on my website, many of these early pieces are still available for purchase.   Contact me if you want more information.