More Charlotte Class Results
More student results from Design Your Own Nature Quilt, in Charlotte, NC:
Beth was working from some photos of fall trees.  However, it's difficult to get an accurate representation of this at the scale we were using.  No worries:  Beth decided to interpret her leaves loosely.  She cut little bits out of her  leaf fabrics, allowing the sky to show through, just as in real life.  Her composition is almost complete and it's going to be  very effective!
Click any image for a larger view.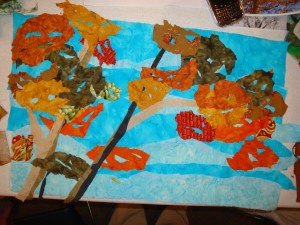 Suzie worked from a photo of a lily (I think.)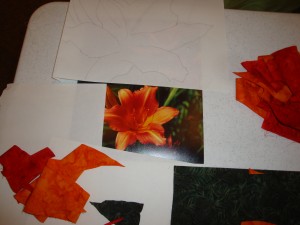 After completing her background, she added the first petal shapes.  (It's kinda hard to get yourself to cut such large petals, especially freehand, but she did it.)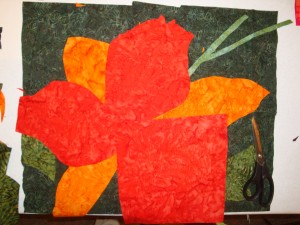 After this photo was taken, she added some color variations and I taught her an easy technique for making little contrasting parts, like those in the veins. 
Pat created a wonderfully balanced composition.  She'll use pencils or threads to add a little shadow between the layers of flower petals.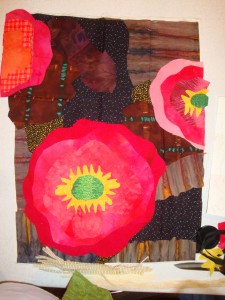 The background of her photo had lots of little white spiky looking things.  Pat added something similar, after this photo was taken, and it added a lot of drama.  This quilt is going to be exciting!
Stephanie worked mostly independently, inspired by a mental image, rather than by a photo.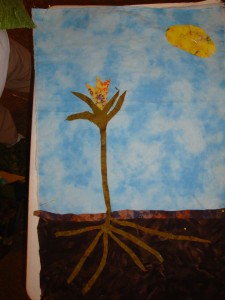 I loved the way she packed for class.  Her vintage suitcase was over flowing with fabrics and other supplies.  Doesn't it look like fun waiting to happen?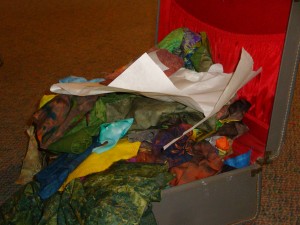 TONS of tulips filled Mary's inspiration photo.  She edited the image to include just a few flowers and designed a nice arrangement.  As you can see, she's got things well underway.  Her interesting fabrics and variety of flower sizes will add lots of personality.  She'll add the stems last.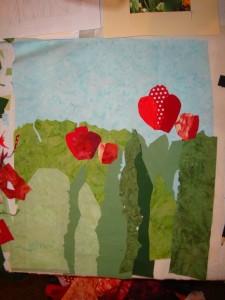 This class is always a big kick for me.  The students are SO good about trying to work in a new way and their results always make it worth their while.
Still more photos to come!
Ellen Lindner
P.S.  See the first round of photos from this class.