One Thing Leads to Another
Remember those wonderful red fabrics I bought in Houston?  Well, it was time to put them to use.
I'm planning to redecorate my master bathroom and I want to use red/orange art in there.  This is the start: a tall skinny quilt to go in the narrow spot above the toilet.  You know the one.
Click any image for a larger view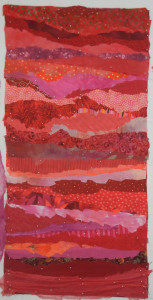 I had very little plan for this quilt, other than the size and color.  I decided to use a horizontal strata sort of composition.  My plan was to use a variety of fabric types and to play up the textures of each.  The photo above shows my rather quick, completely unplanned first attempt at creating a red background.
OK, it works for a background.  Now, what does it need?  Maybe blue?
Yes, blue seemed to be the right answer.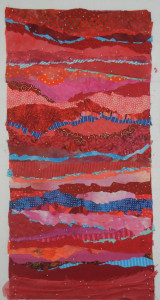 I spent a good bit of time making the blue slivers skinny and undulating.  I liked the effect, but I knew it needed much more.
Maybe some yellow?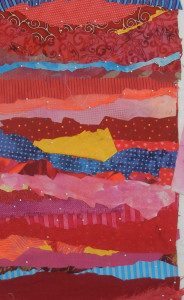 Or maybe not. 
I didn't completely discard the idea of using yellow, but I knew I'd have to use it in tiny doses.
After stitching the original red and blue composition, I decided I needed to add some larger blobs/veins to create focal points.
But what colors should I use for that?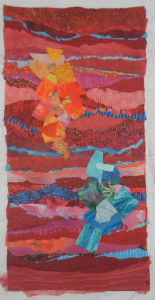 Clearly, one of those above DOES NOT work well! 
Blue-green it is.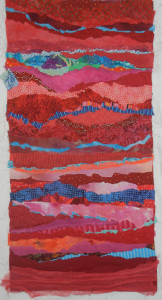 Yes.  Once I started adding these larger shapes, I could see I was on the right track.  Much more exciting (for both viewing and working on.)
As I always tell my students, "Evey item affects every other.  One change will probably require another."  And so it goes.
I've got many more ideas for this piece, so I hope you'll follow along.
Ellen Lindner
P.S.  Compare the first image to this last one.  Much better, right?
If you enjoyed this, you may like my article on color.