Decorating = Designing
Think you don't have any design skills?  Have you ever decorated your home?  If so, you've used design skills in the process.   I was reminded of this recently, when I did some redecorating in my kitchen.
First, I painted the walls a lovely blue-green.  Then, it was time to decorate the space above my cabinets.  Since the ceilings are high, there's about 30″ to fill.
I knew I'd need to keep a few design principles in mind when filling this space:
– Use items that are the correct proportion.  In this case, that meant large.
– Aim for rhythm by having the heights of the objects vary, creating an  undulating "line."
– Create interest with a variety of objects.
– Add "movement" with diagonals.  This would come both from the undulating height and from placing items in front of one another.
First, I considered the proper placement of a fantastic "paper painting" by Elizabeth St. Hilaire Nelson, propping it on food cans to audition heights.
Click any image for a larger view.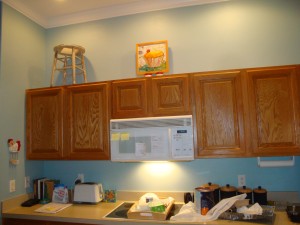 The milk stool was also in consideration.  I used it in the previous collection of cabinet top items, with a plant on top.  But, I wasn't sure I wanted to stay this rustic.  Was some updating in order?
It quickly became apparent that I couldn't properly place the cupcake piece in isolation.  I needed to see some of the other large pieces, so I could see how they'd work together.  After all, (as I tell my students,) "Every item relates to every other.  When you make one change, others may also be needed."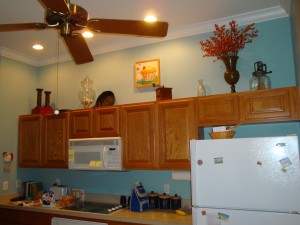 I LOVED the arrangement of orange berries on the right!  (Blue-green and red-orange is one of my favorite color combinations.)  I added it first, and then set about trying to balance that height with something on the left.  My other fairly tall item was the class container.  Of course, it didn't visually fill the space that much, so I had to really study what was happening.
As I decided on the placement of these objects, I tried to vary their heights.  I also made a point of mixing the various surface textures, so that wood, metal, and glass were all spread out.  Progress!
Later, I added smaller items, again spreading colors, materials, and heights throughout.  It was a challenge to give some of these things the visibility they needed, due to the top "lip" of the cabinets.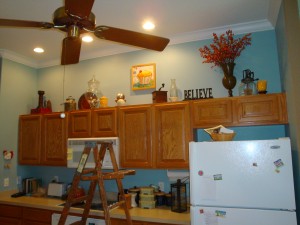 Finally, I was happy with the arrangement, and gleefully put the ladder away!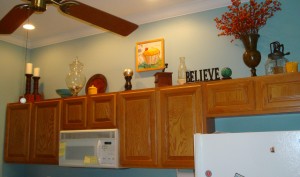 Can you believe it?  I eventually had to climb back up that ladder and make a few more changes!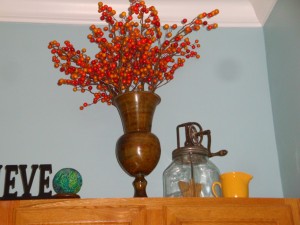 At any rate, I think the design skills I've gained from making art quilts definitely came in handy with this decorating project.  I'll bet you use your skills in other ways, as well.
Ellen Lindner